Which programs will operate in Summer 2019?
We anticipate hiring employees for Extended School Year (ESY), English Learner Summer Program, Parkway Accuplacer and Center City Bridge, Senior Center and Summer Bridge this year. See specific Program Information.
Where are programs located?
See specific locations by program in the Program Information.
Who is eligible to work summer programs?
Employees who have no unsatisfactory documentation currently or pending inclusion in their Official Personnel File. Please see Program Information for specific information by program and role.
How do I apply for summer work opportunities?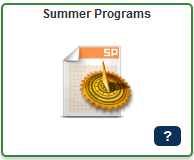 You must apply online. Go to The School District of Philadelphia's website (www.philasd.org). Go to your LOGIN screen (where you would sign in for SchoolNet or view your paycheck). Log in using your email username and password to gain access to the list of applications. Click on the "Summer Programs" icon.
How is staff selected?
Preference is given to staff who have worked summer programs in the past. For employees other than nurses, placement is made based on summer seniority, then system seniority. Please see Program Information for specific information by program.
How are nurses selected for roles?
School Nurse placements are made by SYSTEM seniority NOT program seniority.
What happens if I back out of a role after being assigned?
Employees who rescind from all or part of their commitment to work summer programs may be excluded from consideration from future summer programs.
Do secretaries need to apply to work at their school?
Yes. Secretaries have home school preference, but they MUST submit an application to summer programs and this must be requested by the Principal to the Program Lead by April 1, 2019.
What if I want to work Summer Reorg at my school?
Reorg will be from August 12th – 23rd this year. There will be some overlap with the last three days of ESY, so if you are interested in working both, speak with your principal as soon as possible to get clarity on the best decision for you.
Is it required that an employee work the entire program or can they work only some days?
If you choose to work this summer, you must work every scheduled day and arrive on time and stay until the applicable staff end time. Any employee with three or more occurrences of absence or lateness without approval may be removed from the program.
Can employees take a week off for a previously planned vacation?
No. If you have a previously planned vacation, please do not apply for summer work.
What are the days and hours for staff?
Program start and end dates and days of operation vary by staff member and program. See specific Program Information.
What is the Wait List?
Based on last year's summer staffing, we will inform a number of the next most senior unassigned employees that they are on our summer waitlist so that they know that they may be contacted for placement.
How do I register as a summer substitute?
You must apply to work summer programs to register on the substitute list. Unassigned employees who apply to work summer programs will have the opportunity to register their information on the summer substitute list via a Google Form. Program Leads will contact those on the Summer Substitute List by email or phone on an as needed basis to fill unanticipated absences.
How will I be compensated?
Pay rates for all programs and staff differ by program. Please see Program Information for specific information.
When will I get paid?
For the ESY, Summer Bridge, Parkway Accuplacer and Center City Bridge and Senior Center, payroll will be processed by the Grants office every two weeks. Summer payroll periods end on Thursdays, so employees can expect the Friday after the payroll period closes to carry over to the next paycheck. For the EL Summer Program, employees will be paid at the end of the program (not every two weeks).
Are retiring or resigning employees eligible?
Resigning and retiring employees can apply and work summer programs, however if selected, they will have to adjust the resignation/retirement date to reflect the last day that they will be working summer programs. If selected for a role, employees can then contact retirement@philasd.org to update their resignation date to be after the last day of the summer program to which they are assigned.
Have an additional question? Please contact us at summerquestions@philasd.org. You can expect a response to your email within two business days.